---
Morning All

I have a problem with a small Thuja that appears to be dead/dying. I had moved it a while ago and only spotted the problem yesterday :-(
I am travlleing a lot for work at the moment.
Anyway there appears to be no green cambium on branches or the truck, but there are some green pathces still.

So, is it disease, waterlogging, poor position. It is really sad because I created this from a £2.50 discarded bush in a garden centre 3 years ago.

Any advise appreciated.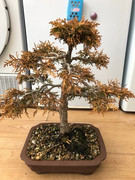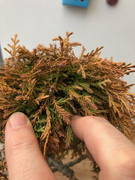 Thanks
Michael