---
My first tree arrived today. I am absolutely fuming here.

Flimsy packaging, crumpled box. Illiterate barstewards who cannot read the word FRAGILE on the tape.
Six of one and half a dozen of the other seller/courier.
Why cant people just do their jobs, If you cant...then take a hike.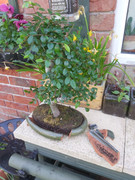 I've had to shell out another shed load of beer tokens for a new pot from Kaizen Bonsai
Then I see that they also use HERMES
The only saving grace is in their header that they will refund or replace any broken pot, which suggests HERMES courier drivers are S#*** at their jobs.

Anyway (deep breath) I have managed to put the tree in an ordinary plastic pot of kitty litter, I didn't touch the roots at all. just made sure it was well bedded in (chopstick etc) and watered well. Will this be OK until my new pot arrives hopefully in one piece.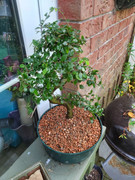 This kind of experience has kind of left a bad taste in my mouth and I sort of wished I hadn't bothered now and spent my money in another direction.
Please advise
Regards
C